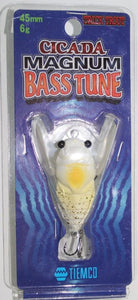 Bass or Trout Surface Lure
Hard body style floating lure with articulated wings to provide a popping action when worked to help excite the Bass.
The Magnum Bass Tune lures come with an internal ball bearing rattle that encourages the strike from the predatory Bass or feeding Trout.
Made by Tiemco a name that is trusted in the Bass fishing Fraternity.